General News
ineo 958 embodies professional quality printing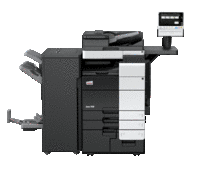 General News
DEVELOP's ineo 958 embodies professional quality printing
JOHANNESBURG – June 22 2017 – DEVELOP South Africa, a wholly owned Bidvest company, officially launched its new ineo 958 to the local market, including media and clients, at an event held on Thursday, 22 June in Ormonde, South of Johannesburg.
"The ineo 958 meets clients' demand for an affordable yet powerful printing system that brings professional production printing performance to in-house printrooms and digital printshops," comments Marc Pillay, CEO at DEVELOP South Africa. " This reflects the growing demand for professional quality monochrome printing in production environments, which the new ineo 958 by DEVELOP is designed to meet.
"More than 25 percent faster than its predecessor, the new device combines speed and a 1,200 x 1,200 dpi output quality with a high degree of media performance."
Dubbed the multifunctional printer (MFP) 'on steroids', this system offers enhanced performance and excellent productivity with convenient media flexibility, operability and scalability.
Enhanced performance
The ineo 958 offers speeds of up to 95ppm as well as a number of new features, such as a new dual colour scanner with capacity for 300 sheets and scanning speeds of 240 ipm in a single pass. The 150-sheet bypass tray brings greater media flexibility, for example, by allowing banners to be printed in-house, and the maximum paper capacity of 6,650 sheets allows high volume print jobs to be completed without paper refills. These enhanced features do not come at the expense of compactness, however, as the ineo 958's small footprint means that this production printing system will easily fit into areas with limited space.
Excellent productivity
The system has an easy-to-use touchscreen and optional upright operating panel to ensure good usability. Professional finishing solutions on offer include a 100-sheet stapling function, booklet making, post insertion and a Z-fold unit that is integrated into the finisher to save space. The ineo 958's media flexibility – 52-300 gm2, SRA3 as standard, mixplex/mixmedia and an intelligent paper catalogue – enables this device to deliver on a wide range of print jobs and increases productivity.
High scalability
The OpenAPI interface supports third-party applications such as, YSoft SafeQ and Nuance eCopy Sharescan. Moreover, the IWS technology and near field communication (NFC) authentication give the ineo 958 a high degree of scalability, making it easy to integrate into an existing workflow and structure.
Mobile usability
The ineo 958 supports printing using mobile and cloud connectivity as it is equipped for NFC. It also supports printing via AirPrint, Mopria, Google Cloud Print, WiFi and direct printing from any location, provided the mobile device is connected to the internet.
Smart solutions for workflow optimisation
A function like convert+share, allows you to scan a document in various file formats and send the file to whatever destination you want, like Google Docs, Evernote or Microsoft SharePoint. Furthermore, the store+find feature helps you locate any document easily and quickly through a keyword or full text search facility.
Mobile data security
There are various means of authentication, such as passwords, finger-vein scanning, contactless smart cards or embedded NFC authentication available on the system. Security features such as IPsec, S/MIME e-mail encryption and IP filtering also make sure every form of system communication or document transfer is secure and all data stored on the system's hard disk is protected from unauthorised access by data encryption technology and, if required - data erasure.
Environment friendly
The system's low energy consumption, economical running costs and intelligent environmental concept have earned it an energy star rating, a positive addition for any organisation's carbon footprint and balance sheet.
"The ineo 958 embodies the simplicity of an office device with the durability and capability of a production device which serves a great need with the local market," concludes Pillay.
ABOUT DEVELOP SOUTH AFRICA:
DEVELOP South Africa, a wholly owned Bidvest company, represents a leading international office communication solutions brand. DEVELOP's ethos is to assess, design and guide clients throughout the implementation process and beyond. We offer continued onsite technical and software management, as well as the supply of spare parts and consumables. Our primary objective is to increase productivity in the customers' business environment. With a principle of "dynamic balance", DEVELOP South Africa offers clients cost effective innovation in the product area, whilst being dedicated to a mutually beneficial relationship with its business partners.
CONTACTS:
DEVELOP SA: Shannon Ras (011) 661-9191, shannon@develop.co.za, www.develop.co.za
icomm: Debbie Sielemann, +27 (0) 82 414 4633, debbie@pr.co.za, www.icomm-pr.co.za