DEVELOP South Africa whisks top dealers away to Cancun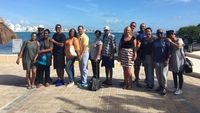 DEVELOP South Africa, a wholly owned Bidvest company, recently took 15 of its top performing dealers away for a lush week in Cancun, Mexico.
One of the major highlights of the trip included a tour of the Chichen Itza Pyramids, one of the Seven Wonders of the World.
Marc Pillay, CEO at DEVELOP South Africa, comments: "The local DEVELOP dealer incentive trip has been instituted as an annual tradition for the past six years. Our dealers put in a lot of hard work over the year, and this is the company's way of showing appreciation for their commitment and dedication.
"DEVELOP South Africa's business has grown significantly through local business partnerships and it is wonderful to get our dealers and their partners together in one space. Not only is it an opportunity for a much needed break for all, but also a chance to interact with one another away from the business environment."
DEVELOP South Africa, a wholly owned Bidvest company, represents a leading international office communication solutions brand. DEVELOP's ethos is to assess, design and guide clients throughout the implementation process and beyond. It offers continued onsite technical and software management, as well as the supply of spare parts and consumables. Its primary objective is to increase productivity in its customers' business environment. With a principle of "dynamic balance", DEVELOP South Africa offers clients cost-effective innovation in the product area, while being dedicated to a mutually beneficial relationship with its business partners.
Develop SA icomm
Shannon Ras Nicola Read
(011) 661 9192 (083) 269 2227
shannon@develop.co.za nicola@pr.co.za