DEVELOP South Africa reveals first ineo 958 to be released worldwide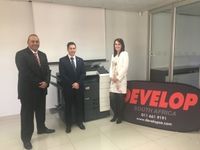 DEVELOP South Africa, a wholly-owned Bidvest company, recently hosted a launch event to unveil the ineo 958, a multifunctional communication device that is almost 25% faster than its predecessor – also known as the 'MFP on steroids'.
The company proudly announced that the ineo 958 that was presented at the launch was the first to be released in the world.
During his introduction, Marc Pillay, CEO at DEVELOP South Africa, advised that the global DEVELOP group has shown a history of innovation, from introducing the first printing device to use standard paper in the 1970s to being named as one of Europe's top suppliers of colour printing systems in 2016.
"The local business has also grown from strength to strength since its launch in 2009, reaching its current nationwide network of almost 40 dealers in South Africa," he said. "In line with DEVELOP's constant focus on advancement, the ineo 958 is a machine that will fill the gap between office products and production devices, to provide a multifunctional communication device that delivers on speed and throughput."
Shannon Ras, sales, marketing and training coordinator at DEVELOP South Africa then put the ineo 958 through its paces, giving a live demonstration of the capabilities of the machine, while Clayton Passmore, business development specialist at Konica Minolta Business Solutions Europe, covered its software features.
Develop South Africa
DEVELOP South Africa, a wholly-owned Bidvest company, represents a leading international office communication solutions brand. DEVELOP's ethos is to assess, design and guide clients throughout the implementation process and beyond. It offers continued onsite technical and software management, as well as the supply of spare parts and consumables. Its primary objective is to increase productivity in the customers' business environment. With a principle of "dynamic balance", DEVELOP South Africa offers clients cost-effective innovation in the product area, whilst being dedicated to a mutually beneficial relationship with its business partners.
Editorial contacts
Develop SA icomm
Shannon Ras Lerato Kiviet
(011) 661 9192 (+27) 082 817 4139
shannon@develop.co.za lerato@pr.co.za