Caption Story
Downtown in Ho Chi Minh City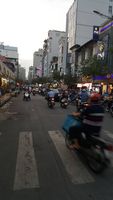 JOHANNESBURG – 13 January 2017 - DEVELOP South Africa, a wholly owned Bidvest company, recently whisked away nine of its top dealers for a lavish week in Vietnam.
Highlights of the trip included accommodation at the Park Hyatt Saigon Hotel in Ho Chi Minh City, a half-day tour of the beautiful city of Saigon, which involved tours within the Notre Dame Cathedral, the former Presidential Palace, and an emotional visit to the War Remnants Museum, as well as a trip to the magnificent Mun Island and a snorkelling tour.
"Our dealer incentive trip has been instituted as an annual tradition since the company's inception in 2009," comments Marc Pillay, CEO at DEVELOP South Africa. "Our dealers put in a lot of hard work over the year, and this is DEVELOP South Africa's chance to show that we appreciate their dedication.
"The company has grown significantly through partnerships with local entrepreneurs, and it is wonderful to see that our combined effort to grow this dynamic business - even within a constrained tough economic environment - are paying off."
ABOUT DEVELOP SOUTH AFRICA:
DEVELOP South Africa, a wholly owned Bidvest company, represents a leading international office communication solutions brand. DEVELOP's ethos is to assess, design and guide clients throughout the implementation process and beyond. We offer continued onsite technical and software management, as well as the supply of spare parts and consumables. Our primary objective is to increase productivity in the customers' business environment. With a principle of "dynamic balance", DEVELOP South Africa offers clients cost effective innovation in the product area, whilst being dedicated to a mutually beneficial relationship with its business partners.
CONTACTS:
DEVELOP SA: Marc Pillay (011) 661-9192, marc@develop.co.za, www.develop.co.za
icomm: Debbie Sielemann, +27 (0) 82 414 4633, debbie@pr.co.za, www.icomm-pr.co.za