Multifunctional printers: device of choice in age of mobility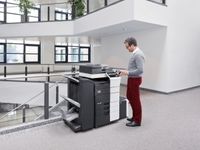 Every industry faces different challenges and every business has diverse needs; a fact that is emphasised in a world where organisations across the board are facing increasing pressure to remain efficient, while also managing a carbon footprint, cutting operational costs, maintaining effective security measures, as well as adapting to the growing trend of flexibility and mobility for human resources.
Increasingly, businesses are transforming their offices into mobile workplaces, allowing employees to enjoy the flexibility of working out of the physical office while remaining connected, says Marc Pillay, CEO at Develop South Africa. And this is precisely what the office and automation sector is working towards; developing multifunctional office devices that will adapt to the employees' daily working habits, while supporting the document managing needs of companies of all sizes.
These days, printing from a mobile device is often easier and more intuitive than from a PC, and there is no need to download external apps or install a specific printer driver. Moreover, security functionalities can ensure your data's safety, with features like secure print, user authentication and account tracking becoming essential in today's business environment, as company data needs to cross a lot of different data highways and run through multifunctional systems.
People want to feel like the devices they use are a true part of their business. Features like user interface customisation on the screen and access to business relevant apps straight from the operating panel certainly respond to this need. At the same time, MFPs can easily be integrated into any existing network and help to optimise document workflows, making it possible to monitor printer fleet remotely and reduce inefficiency in fleet management.
The survival of our planet also highly depends on how we care for the environment today. Hence, it is important for the printing and document management industry to provide solutions that work to the zero-waste principle and are environment friendly.
Ultimately, green efficiency, customisation, user friendliness and optimised document processes all have one thing in common – they save your staff time and effort, and your business money.
Develop SA icomm
Shannon Ras Debbie Sielemann
(011) 661 9191 (+27) 082 414 4633
shannon@develop.co.za debbie@pr.co.za