Caption Story
Distributor Summit - Spain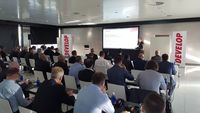 Always set against a striking backdrop, this year's DEVELOP Distributor Summit was no different, hosted in Spain's third largest city, the beautiful Valencia.
Marc Pillay, CEO at DEVELOP South Africa, a wholly owned Bidvest company, represented the African continent at the annual conference, which also welcomed delegates from France, the Baltics, Germany, Switzerland, Turkey, Ireland, and even the tiny principality of Liechtenstein.
Focusing on the concept of "Sharing visions", attendees looked at the continuing positive results of the DEVELOP brand and its worldwide successes over the past year and also received an update on the organisation's roadmap, including the introduction of upcoming products and concepts as well as new DEVELOP marketing tools.
ABOUT DEVELOP SOUTH AFRICA:
DEVELOP South Africa, a wholly owned Bidvest company, represents a leading international office communication solutions brand. DEVELOP's ethos is to assess, design and guide clients throughout the implementation process and beyond. We offer continued onsite technical and software management, as well as the supply of spare parts and consumables. Our primary objective is to increase productivity in the customers' business environment. With a principle of "dynamic balance", DEVELOP South Africa offers clients cost effective innovation in the product area, whilst being dedicated to a mutually beneficial relationship with its business partners.
CONTACTS:
DEVELOP SA: Marc Pillay (011) 661-9192, marc@develop.co.za, www.develop.co.za
icomm: Debbie Sielemann, +27 (0) 82 414 4633, debbie@pr.co.za, www.icomm-pr.co.za