Small but powerful and easy to use – the ineo 3320/4020
DEVELOP launches multifunctional monochrome all-rounders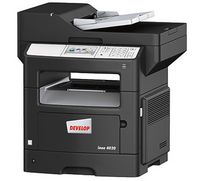 Langenhagen, January 2014. In small businesses or start-ups, home offices or small to mid-sized workgroups document workflows are frequently less efficient than they could (or should) be. Two new multifunctional monochrome all-rounders from DEVELOP, the ineo 3320 and ineo 4020, have been purposely designed to meet the need for greater efficiency in printing, copying, scanning and fax processes. The most important benefits these devices offer? The user can finish routine document jobs faster, and even get more enjoyment out of such everyday work.
"We believe that the efficiency gains these offices make possible can have a positive impact on productivity," says Melissa Andres, the DEVELOP product manager responsible for the ineo 3320/4020. "In office environments where standard functionalities are needed at an affordable price, either of these monochrome devices is the ideal solution."

Boosting workflow productivity
The ineo 3320/4020 can bring a productive boost to everyday printing, copying, scanning and fax functions, e.g. by delivering a first print in just 6.5 sec from ready mode and 9 sec from sleep mode. Another productivity-enhancing feature is the speed at which both devices process jobs – thanks to a powerful controller and a system memory that, in the case of the ineo 4020, can be extended to 2.5 GB. Last but not least, the maximum speed of 33 or 40 A4 pages per minute means either device is ideal for small businesses, start-ups, home offices or small to mid-sized workgroups in a larger business.

Intuitively easy to use
Nobody in any of the targeted user groups wants to be frustrated by the complicated menu or poor navigability of a multifunctional office device. The ineo 3320/4020 has been specifically designed to ensure intuitive ease of use. A clearly structured navigation menu ensures users find all the basic settings easily and quickly, while animated menus provide helpful answers if problems do occur. As a result, as Melissa Andres points out, these devices are not only fun to work with but also ensure document jobs get finished faster.

Optimising efficiency
To optimise efficiency in everyday printing, copying, scanning and faxing processes, the ineo 3320/4020 allows all jobs to be carried out from a single operating panel, which most certainly saves time. Besides, both devices feature functions that are frequently lacking in office devices of this price and performance category – for example, a colour scanning function that enables colour documents to be scanned and sent to any required destination, such as an e-mail address, preconfigured network folder, FTP server or USB stick.

Job and media flexibility
Although positioned as a fairly basic multifunctional device with printing, copying, scanning and faxing functionality, the ineo 3320/4020 does offer a number of optional features that ensure greater flexibility in the range of jobs and media that can be handled. Optional input trays allow the paper capacity to be increased to 850 sheets in the ineo 3320 and 2,000 sheets in the ineo 4020, while up to three optional cassettes in the ineo 4020 enable additional types or sizes of media to be stored ready for immediate use.

Less noisy, more energy-efficient
In a home office, start-up, small business or smallish work group the multifunctional office device is rarely far away from its user so nobody wants a noisy device. The ineo 3320/4020 comes with a quiet mode that lowers noise levels during printing. Both devices also feature a number of energy-saving functions, such as a hibernate mode to reduce power consumption to less than 0.5 W and an eco mode that enables users to save energy, paper or both.
More information:
Ole Maaz
Specialist Marketing Communications
Konica Minolta Business Solutions Europe GmbH
Tel.: +49 (0)511-7404-5213
Ole.Maaz(at)konicaminolta.eu
to product