The ideal b/w solution for smaller businesses
DEVELOP ineo 185: compact, easy to use and eco-friendly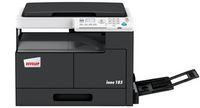 Langenhagen, July 2013. Smaller businesses will appreciate the robust, compact design and ease of use of the ineo 185, a black-and-white office device with high-quality printing, copying and scanning functionality. Its intuitive operatability, eco-friendly features and robust design are additional advantages of a compact system that can also usefully serve as a desktop printer.
"This new monochrome device is an impressive all-rounder," says Jürgen Dobbrunz, the ineo 185 product manager. "Although very compact, it offers all the print, copy and scan functions a small to mid-sized business or workgroup needs, and combines them with high output quality and a favourable environ-mental footprint."
Ideal for smaller businesses

The ineo 185, which prints up to 18 A4 and 9 A3 pages a minute, is a compact, robustly built office device that is ideal for smaller businesses who are looking for a straightforward solution to their black-and-white document needs – for example, printing invoices, copying price lists or scanning incoming documents. The ineo 185 is small enough to fit into any office, and even onto any normal desk, while still offering high sophisticated features. This convincing set of features will surely facilitate any decision to invest in this device.
Intuitive ease of use

No office worker wants to waste time working out how to operate a far-too-complicated multifunctional device. Such fears are ungrounded with the ineo 185. It comes with a clearly laid-out operating panel, backlit LCD screen, LED status display and error status indicator. Moreover, its intuitive operating concept means that even infrequent users will get the results they want without any problems and in no time at all. That enhances office efficiency since it leaves office workers more time to get on with their "real" work.
Flexible functionality

The ineo 185 offers flexible printing and scanning functionality. It can handle paper formats from A5 to A3 and 64-157 g/m2 from the standard 250-sheet cassette and the 100-sheet bypass. Its TWAIN scanning capability makes easy archiving of scanned documents possible, ensuring users can quickly access and print those documents at a later stage. Since the ineo 185 offers high-quality printing, copying and scanning, smaller businesses and workgroups will need no other device to cope with their everyday document needs.
High print quality, lower environmental impact

The ineo 185 features high-density (HD) polymerised toner that ensures smudge-proof output and razor-sharp printing and copying, even of the smallest characters. The use of polymerised toner, as opposed to pulverised toner, also improves the device's environmental footprint by reducing CO2 emissions by around 40%.
Energy Star award

The ineo 185 comes with a number of energy-saving features that not only enhance its operating efficiency but will also reduce a company's electricity bill. The Energy Star label is an endorsement of the relevance of these features.
Compact design

The small footprint of the ineo 185 makes it an ideal desktop device. This will also appeal to larger companies where staff in departments such HR or Finance have to deal with numerous confidential documents. With a compact ineo 185 positioned on their desks, staff can easily pick up such documents before they get into the wrong hands.
Summing up, the ineo 185 is a simple and straightforward monochrome device combining 3-in-1 functionality with compact ease of use, media flexibility and energy-saving features.
More information:
Ole Maaz
Specialist Marketing Communications
Konica Minolta Business Solutions Europe GmbH
Tel.: +49 (0)511-7404-5213
Ole.Maaz(at)konicaminolta.eu
to product