Streamlining document workflows
DEVELOP's ineo+ 454e/554e helps raise productivity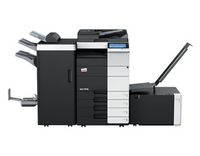 Langenhagen, May 2013. The latest multifunctional system launched by DEVELOP, the ineo+ 454e/554e, has been designed to streamline document workflows. Its intuitive operating concept – modelled on a smartphone or tablet – ensures ease of use and its customisable panel saves users lots of time in everyday document jobs. The ineo+ 454e/554e promises a significant boost to productivity in document production.
Stefan Herrmann, the ineo+ 454e/554e Product Manager, explains why this new machine can have a positive impact on a company's document workflow: "This multifunctional device helps to boosts productivity not just through delivering top-quality output in colour or black and white at 45 or 55 A4 pages per minute. It's above all its ease of use that makes a decisive difference. The operating panel is as easy to use as any smartphone or tablet, and you can tailor the screen to your individual requirements. That saves lots of time and speeds up printing, copying, scanning and faxing operations."
Intuitive user operation
Engine speed alone is irrelevant if a multifunctional device is so complicated to operate that "normal" office users have to spend far too much time simply working out how to use its many functions. It is here that the ineo+ 454e/554e stands out from many other machines in its class. It comes with an intuitive operating concept that it is as easy to use as a smartphone or tablet. The 9-inch full-colour touchscreen of the operating display will feel instantly familiar to smartphone or tablet users thanks to multi-touch operations such as flick, drag&drop or pinch in&out. They can simply finger-swipe their way through the menu and will get to grips with the system in no time at all thanks to the intuitive operating concept.
Customisable panel
A newly designed menu navigation structure allows all functions to be viewed in one go, while the settings a user wants can be selected with just a few clicks. The most useful customisation feature is that frequently used functions can be left on the start screen and ones that are hardly ever used removed. The display is as big as a tablet PC, easy to read and clearly arranged. What's more, the sensible use of pop-ups means users will not get lost in confusing submenus. Since navigating the menu is simplicity itself, office users will find the machine's printing, copying, scanning and faxing functions easy to use. With the panel customised to suit individual document production habits, such routine jobs can be done much more efficiently.
Eco-friendly performance
When choosing an office machine, it is becoming increasingly important to look at its environmental credentials. Here, the ineo+ 454e/554e scores on energy efficiency. The machine was specifically designed to minimise power consumption and tests have shown that the machine's typical weekly electricity consumption (TEC value) is very low, which is good news for a company's electricity bill (e.g. ineo+ 454e: 2.94 WKh/Week). Another issue with office machines is printing material inefficiency. Here, too, the ineo+ 454e/554e sets a good example by automatically deleting blank pages to avoid unnecessary printing or copying, and wasted toner and paper.
Higher productivity
This multifunctional machine can also handle a wide range of media – paper formats from A6 to SRA3 or user-defined formats and banners of up to 1.2 metres in length. The numerous finishing options include booklets of up to 80 pages, letters folded in various ways, handouts stapled and invoices hole-punched. The ineo+ 454e/554e enables most print jobs to produced in-house – that certainly saves time and money.
An economical and eco-friendly office machine delivering high quality output fast – that's the ineo+ 454e/554e. Whether it is used as a multifunctional departmental device or an all-rounder for in-house printshops, the ineo+ 454e/554e promises to streamline document production processes.
More information:
Ole Maaz
Specialist Marketing Communications
Konica Minolta Business Solutions Europe GmbH
Tel.: +49 (0)511-7404-5213
Ole.Maaz(at)konicaminolta.eu