Customised ease of use from DEVELOP
Smartphone-style operation – the ineo+ 224e/284e/364e adapts to user habits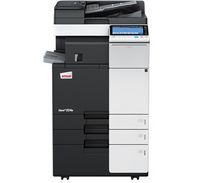 Langenhagen, April 2013. Why should a fully-featured multifunctional office system be difficult to use? After all, most office workers simply want to utilise its printing, copying, faxing or scanning functions without having to read the operating manual first. This is the concept behind the new ineo+ 224e/284e/364e from DEVELOP: an office system that can be operated like a smartphone or tablet and adapts to a user's working habits.
Stefan Herrmann, the Product Manager of the ineo+ 224e/284e/364e, sees the machine's multi-touch operating panel as one of the highlights: "Smartphone and tablet users will feel instantly at home with the ineo+ 224e/284e/364e. And they can customise the screen to their individual requirements to save themselves time and boost the efficiency of their companies' document production process."
Multi-touch operability
The intuitive operating concept behind the ineo+ 224e/284e/364e is evident as soon as the tiltable 9-inch capacitive touchscreen lights up. Developers have adapted the multi-touch principle of smartphones or tablets to ensure instant familiarity for most office users. Well-known multi-touch features such as flick, drag&drop and pinch in&out have been cleverly employed to provide a user-friendly operating panel. An improved navigation structure allows the user to see all functions in one go and select the required settings with just a few clicks.
Customisable panel
Smartphone-/tablet-style operability is not the only highlight of the panel. Office users can customise the start screen to suit their specific requirements, e.g. by leaving frequently used functions on the screen while removing ones that are rarely or never needed. This saves a great deal of time in routine printing, copying or scanning jobs.
Eco-friendly features
One of the most interesting features of the ineo+ 224e/284e/364e from a business perspective is possibly its low power consumption. The various energy-saving functions include a very economical sleep mode and a dynamic Eco Timer that adapts the system's active phases to its actual operating periods. As a result, the ineo+ 224e/284e/364e consumes very little power in average office use. Other "green" functions include among others automatic deletion of blank pages to avoid paper wastage, which is not only good for the environment but also reduces a company's running costs.
More efficient work processes
The ineo+ 224e/284e/364e can help to improve the efficiency of the document workflow by reducing the amount of manual work involved in everyday office jobs. For example, documents can be scanned directly as Word (.docx), Excel (.xlsx), PowerPoint (.pptx) or searchable PDF files to do away with the need for manual file conversion. Scanned documents can also be distributed in a variety of ways, e.g. as e-mails or through transfer to a Windows folder or FTP server. The software tools DEVELOP offers as optional extras also help to boost office efficiency. store+find, for example, does away with time-wasting searches for "lost" documents by ensuring every file can be located fast. With convert+share users can e.g. scan a document in various file formats and distribute them to wherever scan destination.
All in all, the impression the new ineo+ 224e/284e/364e from DEVELOP makes is of a multifunctional office device that not only claims to be user-friendly but will indeed simplify the document production process for office users.
More information:
Ole Maaz
Specialist Marketing Communications
Konica Minolta Business Solutions Europe GmbH
Tel.: +49 (0)511-7404-5213
Ole.Maaz(at)konicaminolta.eu
TO PRODUCT